The 2021 Subaru Love Promise Community Commitment Award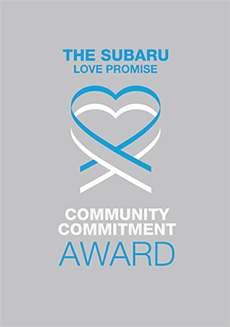 We've been nationally recognized for our dedication to our community and the Subaru Love Promise.
We're honored to receive the 2021 Subaru Love Promise Community Commitment Award. This award nationally recognizes Subaru retailers who are making the world a better place while demonstrating an outstanding commitment to supporting passions and causes in local communities. These efforts are focused in important areas such as the environment, community, health, education, and pets.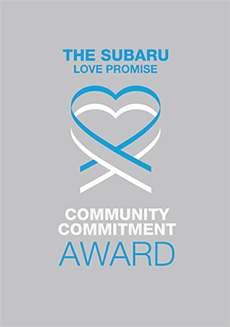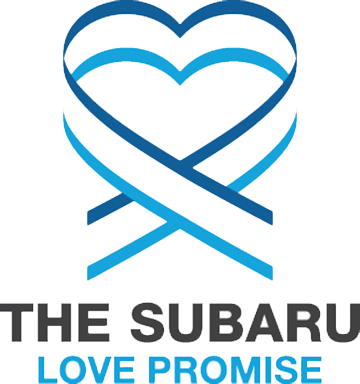 What is the Subaru Love Promise?
Subaru and our retailers believe in making the world a better place and the Subaru Love Promise is our vision of respecting all people. This is our commitment to show love and respect to our customers and to work to make a positive impact in the world.
How is Tom Wood Subaru dedicated locally to the Love Promise?
Our Love Promise can be seen in various partnerships with local charities and non-profits. We're grateful for the opportunity, not only to be a part of our community, but to serve it as well. We are proud to partner with Miracle Place this year as our local charity of choice.
Edison School for the Arts
Peyton Manning Children's Hospital
Love Promise Stories from Tom Wood Subaru
Subaru and Tom Wood Subaru believe in making a positive impact on the communities in which we live and work. We uphold that belief through our Love Promise Community Commitment. Every month, we select inspiring stories from customers and partners from around our area who strive to support our collective commitment and feature them here
Subaru Loves Pets – HSHC - Jennifer H
The Humane Society for Hamilton County is fortunate to continue to partner with Tom Wood Subaru to ensure that each animal in our care has the chance to live, love, and be loved. Tom Wood's dedication to animal welfare makes a difference in the lives of many 'underdogs'. Each year, HSHC takes in over 3,000 animals--irrespective of age, breed, special medical needs, or disabilities. Tom Wood's month-long awareness campaign in October helps these animals find their forever homes while shining a light on the healing power of pets. This year, we found homes for a record-breaking 104 dogs and 248 cats in October. One special adoption in particular was Pickles, a 5-year-old terrier mix we rescued from a surrounding shelter who was at-risk for euthanasia. The commitment to our mission doesn't stop with Hamilton County--we've always shared available resources to save as many out-of-county animals as possible, Pickles being just one of them. Pickles was transferred to HSHC in September in rough shape; one of his eyes was serverely damaged and in need of removal, and he was also in need of a leg amputation. The Humane Society for Hamilton County funded the cost of the procedures that Pickles needed in order to give him his best chance at a second chance. One month later on October 12th, Pickles found his forever home. Pickles has learned the meaning of true love in his forever home. His wounds have healed and he took his first trip to the beach. We believe animals possess the ability to connect with people in ways that inspire hope, healing, and purpose. That is why HSHC is so appreciative of Tom Wood Subaru for making happy endings, like Pickles, possible.
---
Enriching The Lives Of Students........ - Shannon C
We had an exciting story shared with us today. Back in September, we had our "Subaru Loves Learning" pillar. Through that initiative, we worked with adoptaclassroom.org, in which Subaru gave $500 each, to 10 different teachers at Edison Elementary school. I learned today from Principal Amy Berns that the drama teacher; Beth Pohl, was excited to share the ways her classroom used the funds to further the drama department. Beth shared that they created a black box theatre classroom and were able to purchase a Chauvet Lighting System & an On-Stage LED Wash Light! Check out the great video Beth sent of her students doing a performance in the new room, with the new lighting. Principal; Amy Berns shared: "Thank you again so much, I hope you can see the joy on our students' faces doing what they love, here at Edison School of the Arts!"
---
Helping the homeless to live better lives........ - Shannon C
Dayspring Center provides shelter, clothing, and meals for homeless families with children in central Indiana. Families turn to them to escape domestic abuse, others have experienced financial collapse, medical problems, or other crises that caused them to lose their home. Dayspring works to prevent homelessness by first, meeting their most immediate needs for food and shelter, then working with each family to address the issues that led them to their homelessness. 70% of residents who complete the program at Dayspring Center move directly into permanent housing. We love to help organizations such as these and through "Subaru Loves to Help", we did just that! We were able to provide Dayspring with 80 blankets and 200 pairs of socks, to help further the needs of those they support. The folks I met today were all so helpful, full of smiles and such a joy to be around! How can you help Dayspring? Be sure to check out their page: https://dayspringindy.org/donate/ and while you're there, check out the great success stories too! Thank you Dayspring for all of the ways you help out our fellow man & help our community to thrive! You are truly a blessing!
---
TOGETHER, WE CAN FEED AMERICA! - Scott R
Every year thousands of Hoosier families have food to eat because of gracious and compassionate volunteers. Because of their generously-given time and effort, Gleaners Food Bank is able to collect and distribute more than 2 million pounds of food each month. Thank you to all of our guys here at Tom Wood Subaru, for going out and graciously giving your time to help! We sure do appreciate you guys! Gleaners couldn't do what they do for hungry Hoosiers, without the help of volunteers, that's why it is such an important part of how they serve the community, especially in times such as these. As circumstances continue to change, we are hoping that you will come alongside of us and all of the other volunteers, to help bring awareness to their mission. Help Gleaners continue to lead the fight against hunger, even from your own couch - you can volunteer virtually!!! Check it out: https://www.gleaners.org/get-involved/volunteer/ Thank you again to all of our wonderful staff, who have given their time to Gleaners throughout the years and thank you to all of those at Gleaners who have provided so much for our community!
---
"Sharing the Love" with some Halloween Treats! - Shannon C
We love to help children, so today we went on an adventure to "Share the Love" 😉 We stopped off at our wonderful hometown charity; Miracle Place to deliver Halloween candy to all of the kids. Our next stop........Ronald McDonald house and then we were off to visit the St. Vincent House! Thank you to all of these organizations for everything you do for the children of our community, as well as Riley & Peyton Manning Children's hospital! You all are truly a blessing! Happy Halloween from everyone here at Tom Wood Subaru!
---
Sisters Sharing Their Story - Shannon C
Yesterday we were very blessed to meet three lovely Sisters from Columbia, South America – two natives and one originally from Michigan. These Sisters were on a mission, coming here from Columbia to help some of our Spanish speaking community with finding employment, housing and enriching their lives. The Sisters are a part of the Diocese of Lafayette and visited our dealership to purchase two Subaru Outbacks, to help them in their mission! Their desire as a part of the Body of Christ is uniting in Heart & seeking to proclaim the Gospel, in all they do for the salvation of souls, through the three pillars of Mission, Community and Witness. Our Sales & Leasing Consultant; Dan Ryan took great care of these Sisters, through the purchase of the two 2022 Outback Premiums - one in Autumn Green & the other in Magnetite Grey. Check out the great picture of the four of them! Thank you Dan and thank you to these wonderful Sisters for blessing us with your visit, sharing you story and becoming another cherished customer of Tom Wood Subaru! Be sure to stop by today and let us become a part of your story! See you soon!
---
Sweet Cards from Edison Elementary....... - Shannon C
Tying in with our story below about Edison School of the Arts and how we supported them this year, through the "Subaru Loves Learning" initiative, we wanted to share these with you. The sweet children there created these beautiful cards for our staff! So awesome! The power of words is that a life can be launched with as little as a single phrase, an uplifting word or an act of kindness. Think of the power we wield and the impact we can make if we become more intentional about encouraging our children. Our words are often the very things that help create future dreams. And sometimes those dreams are to be just like us. Thank you so much to all of the children for your sweet, sweet cards and thank you to Principal; Amy Berns for sending these along to make our day! Our staff would like to thank you & all of the teachers for everything you do for the children in our community! We sure do appreciate these!
---
Adopting a Teacher! - Shannon C
During the month of August, we celebrated "Subaru Loves Learning". Our chosen school to celebrate with this year was Edison School of the Arts. Through this initiative, we worked with AdoptAClassRoom.org donating $500 each to 10 different teachers throughout this elementary school. This helped with school supplies, furniture and so much more! This year alone, Subaru will adopt over 4,700 classrooms that will impact more than 114,000 students in need. Did you know that 96% of teachers purchase many school supplies from their own pocket, spending around $750 a year, so their students don't do without! What a blessing they are - so Subaru wanted to give back to these amazing teachers! You can join the cause and help a school in need by donating books, backpacks, supplies or you can check out https://www.adoptaclassroom.org/ to find out more ways you can help! Through this site, the teachers create a fundraising page or apply for a grant. Those that would like to donate can give to a specific classroom, school or fund. Teachers can then immediately order the supplies they need for their students. And the great thing is, those that donate get updates about how you have made an impact on these teachers and their students! Principal; Amy Berns shared some great pictures of a 3rd grade classroom and one of the items they have purchased so far with these funds. Pictured are the children enjoying their new "wiggle seats", which allows them to have some mobility and helps with fidgeting. Amy also shared how the teachers are super excited to purchase more supplies with these funds and that they will be sharing more photos with us over the next few months! Super exciting! So if you are a teacher in need or someone who would like to help these teachers, please join us in this great cause!!! At Tom Wood Subaru, we believe that all children deserve an excellent education to help them achieve their dreams!
---
Love Them For Life Pet Adoption Event - Shannon C
On October 2nd, we held our "Love Them For Life" pet adoption event right here at Tom Wood Subaru! It was a great day with 12 organizations in attendance! There were 8 furry friends who found new homes and more rescues & adoptions to report soon! Despite the weather it was a nice turn out, with free lunch, lots of give-a-ways and so much more! We had chickens, bunnies, cats, dogs, mice, rats, you name it, it may have been here! Thank you to every organization who came out and a HUGE thank you to Rhi Johns & Cheri Storms from Pet Friendly Services for bringing out all of the organizations, helping them get spay/neuter services and all of the wonderful things you do!
---
MULTIPLYING GOOD - Shannon C
We are very proud to sponsor "Multiplying Good" in Indiana, which unleashes potential in youth, through service and partners with organizations and corporations, to recognize excellence in service. In Indiana, Multiplying Good works in 32 schools to help youth identify what they are passionate about and build the skills needed to do something about it. During the 2020-2021 year, students worked on issues ranging from social justice, racial justice, civic engagement, mental health, homelessness, hunger, the environment and combating the effects of COVID-19. Each year, one team is selected, based on their impact as the regional winning team. Their story is an example of what youth in SIA achieve and how they grow. Over the course of the year there have been 21 SIA teams, they have completed 123 projects with 391 youth participating. They served 4,462 hours, engaged 5,016 volunteers and they have impacted 16,873 individual lives! How awesome is that! They recently held a pickleball tournament, which raised $25,361 in cash and $13,018 in-kind donations. Because of this, 101 middle & high school students will be able to participate in "Students in Action" (in Indiana) for free. We are so proud of these kids and so impressed by what they have done for our community! Thank you from everyone here at Tom Wood Subaru for being such an inspiration to our youth!
---